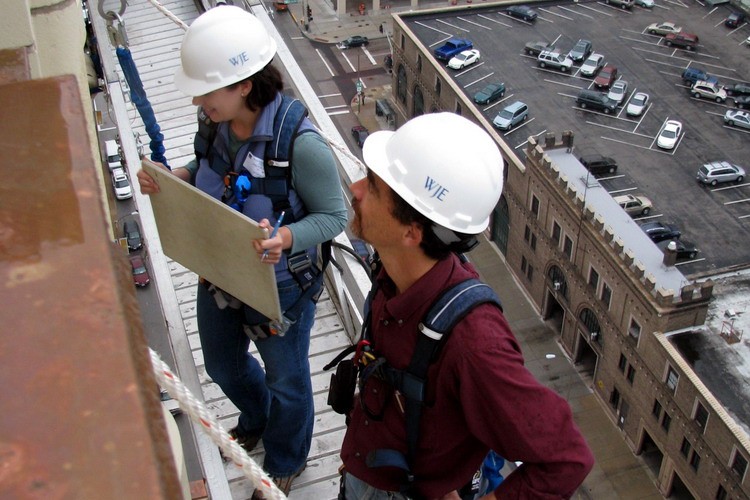 The Chicago office of WJE is seeking Experienced Structural Engineers with a depth of project and client management experience. The ideal candidate is a well-rounded professional with industry-recognized expertise in one or more of WJE's practice areas, who is capable of tackling complex structural engineering assignments in a collaborative fashion. The candidate will also be expected to mentor junior staff and make contributions to the internal operations and initiatives of the company.
Candidates must be technically competent in concrete, steel, masonry, wood, and other structural systems, and have solid experience in structural analysis and computer modeling. Work will typically include engineering analysis, field investigation, monitoring laboratory testing, research, investigation data reduction, developing alternate schemes for solving problems, and repair design.
Requirements:
15 or more years of managing a range of structural engineering projects from simple to complex
Structural Engineering license in Illinois
Strong regional experience and established clients in the Chicago region
Strong written and oral communication skills
Strong computer skills including structural analysis
Ability to work in the field and to travel outside local area
Active in professional organizations, authors papers, attends conferences, and performs work on technical committees
Typical functions:
Acts as the primary client contact for projects
Builds client relationships, attracting new and repeat business
Develops scopes of services, assembles and manages appropriate project teams based on needs and prepares high quality proposals
Conducts on-site inspections/investigations, including surveying and documenting distress, field testing, sampling, photographing, sketching, and observing work in progress
Researches historical background of structural provisions, technical issues, and code issues
Analyzes research and investigation data and develops alternate schemes for solving problems
Completes structural analysis of concrete, steel, wood, masonry and other systems; performs technical reviews of analytical and written work product prepared by others
Designs repair details; prepares drawings, specifications, and final project deliverables
Prepares investigatory reports, client presentations, and other types of written work product
Invoices clients and follows up on outstanding accounts
The physical demands described here are representative of those that must be met by an employee to successfully perform the essential functions of this job. This position requires visual acuity and listening ability. Individuals must have the dexterity to be able to operate office and field equipment such as computer, printer, fax, copier, telephone, voice mail system, and other office and field equipment. Requirements may also include:
Ability to attend meetings at various office and field sites
Ability to perform inspections of buildings and other structures, both visually and with instruments
Ability to lift and carry materials and equipment up to 50 lbs.
Ability to perform work in the temperature extremes presented by work in the outdoors
Ability to read construction drawings, diagrams, printed materials and computer screens
Ability to record data clearly and write passages for reports, letters, etc.
Ability to travel
Ability to safely work at heights
Ability to safely use and/or operate ladders, scaffolds, lifts and other access equipment
Ability to understand and appreciate safety training specific to numerous workplace and construction hazards
Ability to safely work in a variety of occupationally hazardous locations
Medically fit to utilize respiratory protection devices and other forms of Personal Protective Equipment
Ability to drive and safely operate a motor vehicle
WJE is an Equal Opportunity Employer. We invite all qualified applicants to apply including individuals with disabilities, minorities, women, and protected veterans (VEVRAA federal contractor).
WJE will consider qualified applicants with criminal histories in a manner consistent with the requirements of Fair Chance Ordinances.
All applicants must apply online to receive consideration.